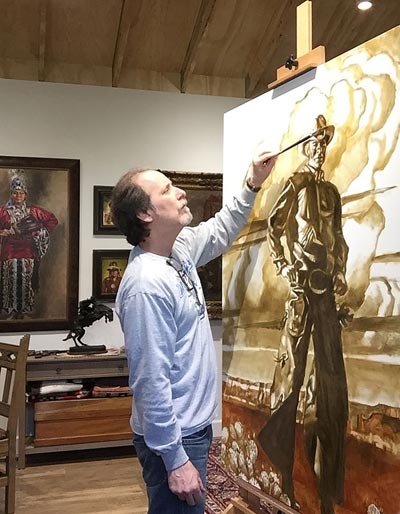 Eager to utilize his creative abilities in a professional capacity, Mark Chickinelli began his pursuit of excellence as an illustrator and designer in 1975 by accepting a position with a local graphic arts studio. In 1983 he left Omaha to join the staff of one of the country's most prominent illustration studios. A five-year-long association with some of the leading artists in the field along with front line exposure to national advertising accounts provided both a direction for his talents and a foundation for the success of his own freelance career.
During this time Mark apprenticed under one of the nations leading contemporary illustrators, Iowa's famous artist Gary Kelley.
Today, Mark's reputation extends beyond his Omaha-based studio from New York to L.A. He has established himself as an accomplished illustrator with an impressive client list including Coca-Cola, 3M, Playboy Enterprises, Anheuser Busch, Herman Miller, NFL Properties, Donruss Playoff, Union Pacific Railroad, U.S.Army, Major League Baseball, McDonalds, Werner Enterprises and many of the top ad agencies across the country.
Influenced primarily by painter N.C. Wyeth, The Taos Society of Artists, the Impressionists, and the Pop Art Movement of the 60's, Mark's versatility in style ranges from interpretive to realistic. His expertise in a variety of media: – oil, acrylic, b&w ink, and digital art in Adobe Illustrator and Photoshop – has earned him numerous national and regional awards and honors. His paintings have been chosen to tour internationally with The New York Society of Illustrators. His work has been shown in the professions most distinguished graphic arts annuals, including those published by The New York Society of Illustrators, The New York Art Directors Club, Print Magazine and Communication Arts Annuals. Mark's work has been exhibited at the Society of Illustrators in New York over fifteen times in the span of his 37 year career.
In the last ten years Mark has been specializing in oil portraiture ranging from corporate executives and families to Major League Baseball and NFL players. A recent highlight was creating graphic portraits of PGA, LPGA and SENIOR golfers for the National Skins Games sponsored by Con Agra.
Mark is currently devoting more time to private commissions, painting outdoors in pleine air, and gallery work. His current book "The Little King and his Marshmallow Kingdom" that he designed and illustrated for writer Lou Rotella III has been awarded 3 national gold medals in childrens book categories and is one of four finalist for the coveted Nebraska Golden Sowers Award.
Clients:
3M
AT&T
Amoco
Anheuser Busch
Ata-Boy Productions
Bon Appetit Magazine
Budweiser
Burger King
Burlington Northern Railroad
Canteen Corp
Capital Records
Caterpillar
Cessna
Coca-Cola
College World Series
Con Agra
Conoco
Coors
Donruss Playoff
First National Bank
Frito Lay
Gillette
Hasbro
Herman Miller
Hewlett Packard
IBM
John Deere
Kenworth
Kraft Foods
Major League Baseball
Marlboro
McDonalds
Miller Brewing Co.
Milton Bradley
Monsanto
Mutual of Omaha
NCAA
NFL Properties
Nike
Paccar
Pepsi
Pepsico
Penzoil
Peterbuilt Trucks
Pizza Hut
Playboy Enterprises
Psychology Today
RCA
Rolling Rock Brewery
Rotellas Italian Bakery
Taco Bell
Target
Texas Monthly
Union Pacific Railroad
Upjohn Pharmaceuticals
US Army
Wendys
Werner Enterprises